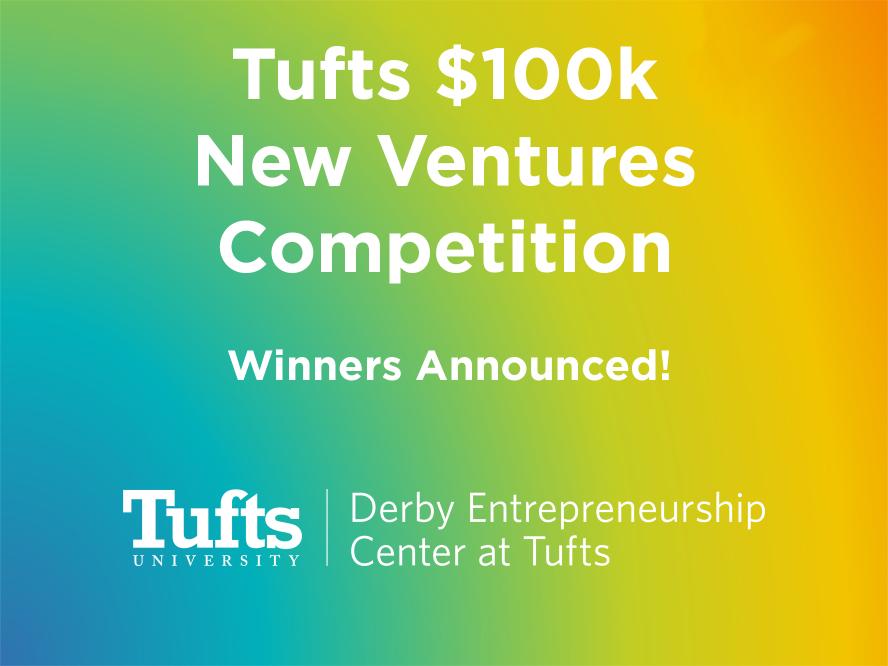 Winners Announced in Tufts $100k New Ventures Competition 2023
Following a day of virtual live pitching and deliberation, winners for this year's $100k New Ventures Competition have been announced.
On Thursday night, a diverse soundscape could be heard on the third floor of the Joyce Cummings Center. First, a pleasant social buzz, then a respectful and attentive quiet, and finally a grand applause. These sounds told the story of the Tufts $100k New Ventures Competition Finals, hosted by the Derby Entrepreneurship Center at Tufts. Audience and participants alike gathered at in-person watch parties to listen to the pitches of the Finalists, with a whole other crowd attending virtually. Audience members mingled between pitches, listened carefully as teams presented, and cheered for the night's eventual winners.
At the conclusion of March's Semifinals, judges had selected 15 teams – five from each track – to advance to the Finals. Those teams spent the next few weeks refining their pitches, working with their mentors to shore up holes in their business plans, and adding the finishing touches to their slide decks. All of the Finalists came a long way from their initial applications, including iterating and improving upon their ideas during the highly competitive Semifinals, and now all their hard work would culminate in front of a panel of expert judges.
Reflecting on the event, Elaine Chen, Director of Derby Entrepreneurship Center and Cummings Family Professor of the Practice, said, "I am incredibly impressed and inspired by everyone's passion and dedication to their ventures at this year's Tufts $100k New Ventures Competition. Warm congratulations to not only the winners, but everyone who applied. You took that first step towards making a difference through innovation and entrepreneurship – and we are so proud. Everyone in the Derby Entrepreneurship Center community is rooting for you and will always be here to support you. Go forth and solve big problems!"
As in previous years, the competition Finals also awarded the $15,000 Stephen and Geraldine Ricci Interdisciplinary Prize which promotes the advancement of research at Tufts through projects and the Friedman Nutrition Innovation Institute (FNII) Prize, a $10,000 cash prize coupled with $25,000 in-kind legal and ideation services.
Congratulations to this year's winners:
Stephen and Geraldine Ricci Interdisciplinary Prize: 
SmartH
"Our mission is to transform the wound care experience by making it fast, safe, and accessible with the help of smart hydrogels."
Friedman Nutrition Innovation Institute (FNII) Prize:
This year's Friedman Nutrition Innovation Institute Prize saw its first ever tie! The following two teams were each awarded a share of the prize:
Duo Toothpaste
"Duo is the original dentist-made whitening tablet toothpaste delightfully dosed with vitamins and supplements that are absorbed through your mouth as you brush."
P107 Drone Service
"One Flight, Endless Possibilities."
General Technology
1st: Caravel Bio
"We lower the cost of carbon-negative chemicals through our innovative cell-free catalysis platform."
2nd: EcoView Analytics
"EcoView Analytics' GreenEye service enables golf course operators to optimize their resource utilization by providing relevant and insightful data for monitoring and enhancing course health."
3rd: P107 Drone Service
"One Flight, Endless Possibilities."
Cummings Property Rent Credit: EcoView Analytics
Healthcare & Life Science
1st: SmartH
"Our mission is to transform the wound care experience by making it fast, safe, and accessible with the help of smart hydrogels."
2nd: VF24
"A world where health and longevity from fruits and vegetables is the norm and not the exception."
3rd: Duo Toothpaste
"Duo is the original dentist-made whitening tablet toothpaste delightfully dosed with vitamins and supplements that are absorbed through your mouth as you brush."
Cummings Property Rent Credit: SilkBone
"We help patients with broken bones heal faster, safer, and cheaper with our revolutionary biodegradable screws, which reduce the need for a secondary surgery and increase long-term orthopedic quality of life."
Social Impact
1st: Museo Minca
"We connect conscientious travelers with immersive cultural experiences that engage with the community's complex history, while supporting their building of a better future."
2nd: Equiballot
"Providing concise and unbiased election information to help voters and political candidates."
3rd: Yummy Greens
"Eat Well and Build Community. We help busy, health conscious professionals and students in major cities in Cameroon eat healthy via the production & delivery of tasty, affordable and accessible, nutritious meals on the go!"
Cummings Property Rent Credit: Blesser Breakers
"Putting a stop to adult-child predatory sexual relationships."