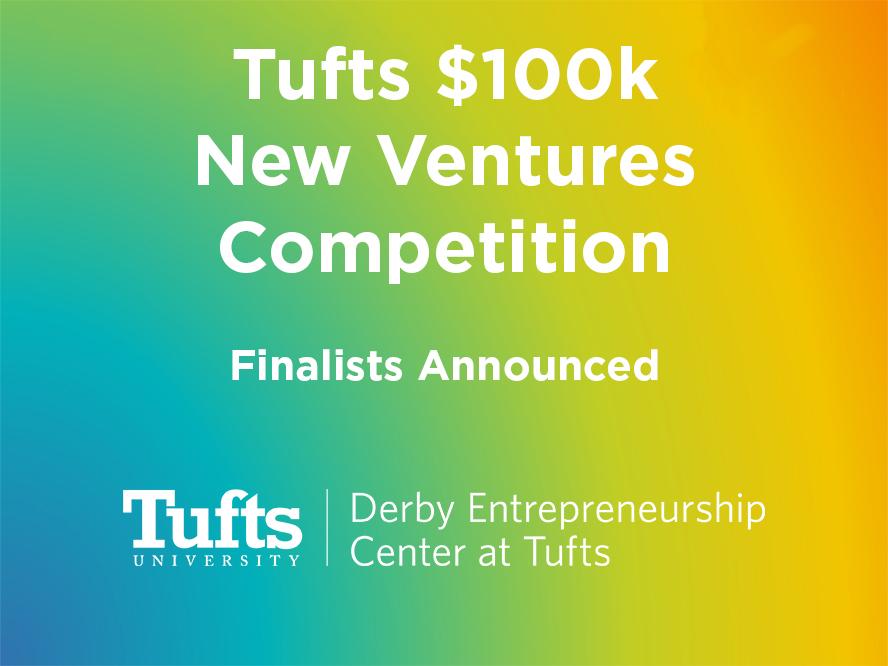 Finalists Announced in Tufts $100k New Ventures Competition 2023
Entrepreneurs from across the Tufts community pitched their innovative ventures at the hybrid competition Semi-finals.
Thirty teams across three unique tracks gathered to virtually live pitch their innovative ventures to a panel of judges at the semi-finals of the Tufts $100k New Ventures Competition, hosted by the Derby Entrepreneurship Center, part of Tufts Gordon Institute. For the first time, this year's hybrid Semi-finals hosted in-person live watch parties for attendees to gather and watch the pitches. After an exhilarating evening of high-quality presentations, 15 teams were selected by the judges to move forward to the final stage of the business plan competition.
Teams brought to the competition's three tracks — General Technology, Healthcare and Life Science, and Social Impact — a variety of innovative ideas, including drone mapping systems, AI-based sign language translation tools, and silk screws.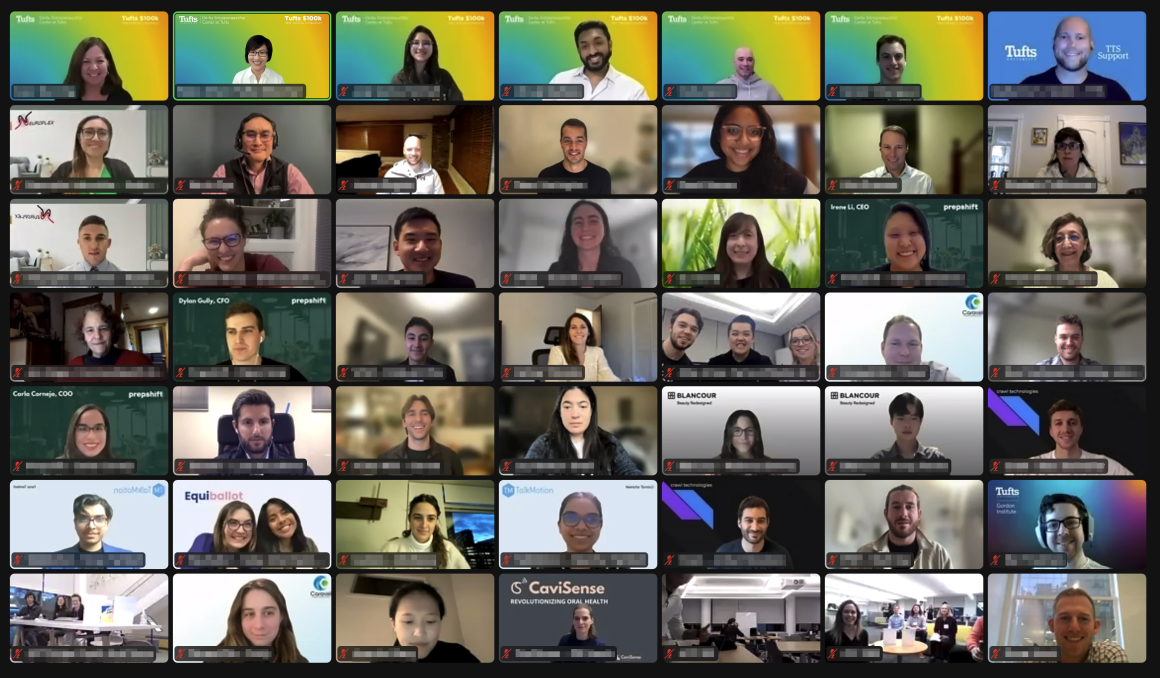 As part of the competition, participants vie for cash prizes of $100,000 along with additional in -kind services. At the March 9th semi-finals, a panel of industry-expert judges heard the pitches and offered valuable feedback to the teams. All 30 semi-finalist teams also received a $500 award for reaching this stage of the competition!
As in previous years, along with the Tufts $100k New Ventures Competition winnings, the finalists have the opportunity to be awarded the $15,000 Stephen and Geraldine Ricci Interdisciplinary Prize which promotes the advancement of research at Tufts through projects, and the Friedman Nutrition Innovation Institute (FNII) Prize, a $10,000 cash prize coupled with $25,000 in-kind legal and ideation services.
With grand prizes on the line, learn more about the finalists through excerpts of their self-submitted descriptions ahead of the $100k New Ventures Competition Finals on April 13. Register here to attend the $100k Finals.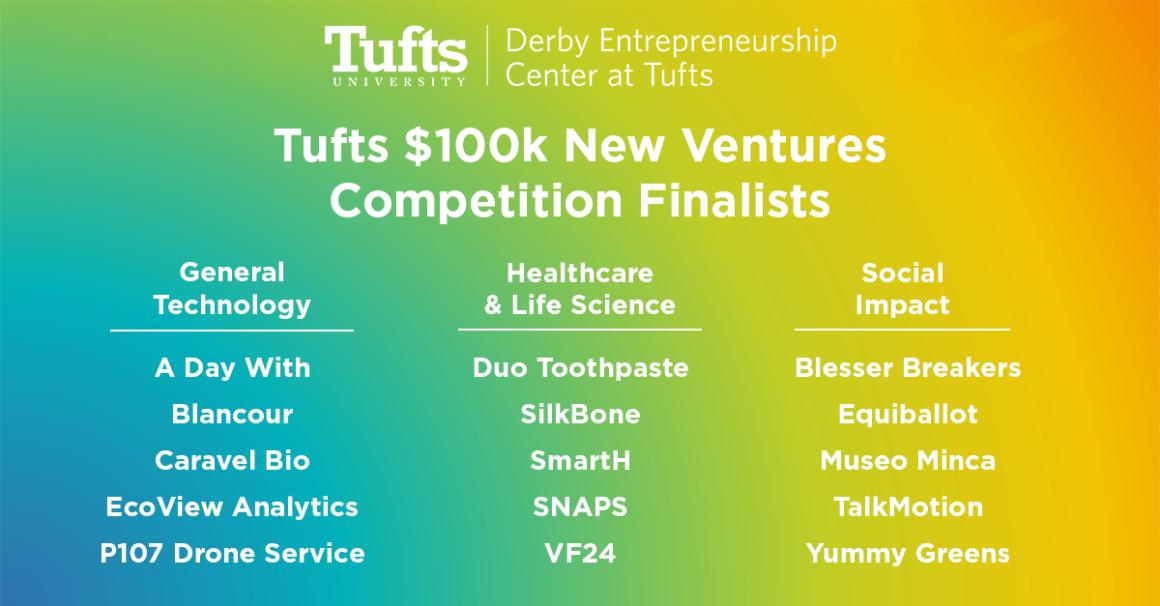 General Technology
A Day With
"We are building the world's first peer-to-peer travel agency to deliver authentic travel advice from locals."
Team members Garrett Weinstein, A18, and Nikolay Kuzmanov are connecting travelers with locals through their venture A Day With. The world's first peer-to-peer travel agency, A Day With empowers local experts to share their knowledge with travelers to take the burden of research off of travelers. As a peer-to-peer service, A Day With provides travelers with an authentic experience while enabling locals to earn revenue through their unique knowledge.
Blancour
"Our beauty brand, Blancour, inspires confidence and expedites your day by delivering fast-paced beauty essentials for modern men and women."
Blancour was founded on the belief that beauty can be optimized for real people leading fulfilled (and busy) lives. Blancour's beauty products are designed with a focus on portability, aiming to be travel-friendly and easily accessible on-the-go. In their pitch, Blancour team members Rebecca Gomez, A23, and Young Tanoto, A23, proposed capitalizing on guerrilla marketing tactics that would display their products in exciting travel-oriented environments as opposed to the more neutral environments of traditional beauty products.
Caravel Bio
"We lower the cost of carbon-negative chemicals through our innovative cell-free catalysis platform."
Caravel Bio's mission is to replace petrochemical products in materials, foods, and pharmaceuticals with carbon-negative alternatives. The team is developing a cost-effective, cell-free technology platform to enable production of chemicals from sustainable sources like CO2 waste-streams and plant biomass. Caravel Bio's patent-pending synthetic biology platform for manufacturing enzymes and self-assembling enzyme carriers enables a lower cost method to stabilize and recycle enzymes. Trevor Nicks, EG23, and Emily Weinberg aim to launch Caravel Bio's first product as natural vanillin from plant biomass.
EcoView Analytics
"EcoView Analytics' GreenEye service enables golf course operators to optimize their resource utilization by providing relevant and insightful data for monitoring and enhancing course health."
EcoView Analytics' unique technology, GreenEye, is an automated drone mapping system that employs their proprietary and patented hyperspectral imaging technology to analyze the course's health and generate a daily report that can be integrated with existing irrigation systems to enable precision irrigation. Comprised of five Tufts students – Fiachra Finegan, EG23, Marius Michel--Nil, EG23, Nicholas Muro, EG24, Jackson Saunders, EG23, and Jay Masci, EG23 – EcoView Analytics seeks to simultaneously reduce golf course owners' overhead costs and promote environmental sustainability.
P107 Drone Service
"One Flight, Endless Possibilities."
P107 aims to revolutionize the agriculture industry in the southern US, providing data-driven crop health analysis, flood damage assessments, topographic mapping, and more. By providing high-resolution crop health data, P107 will help farmers improve crop management practices, decrease fertilizer costs, mitigate risks, and increase yields. Co-founder Matthew Day, AG22, explains that one of P107's advantages is its existing network with the agriculture industry in Louisiana and the southern US, which will help establish the company as an industry leader.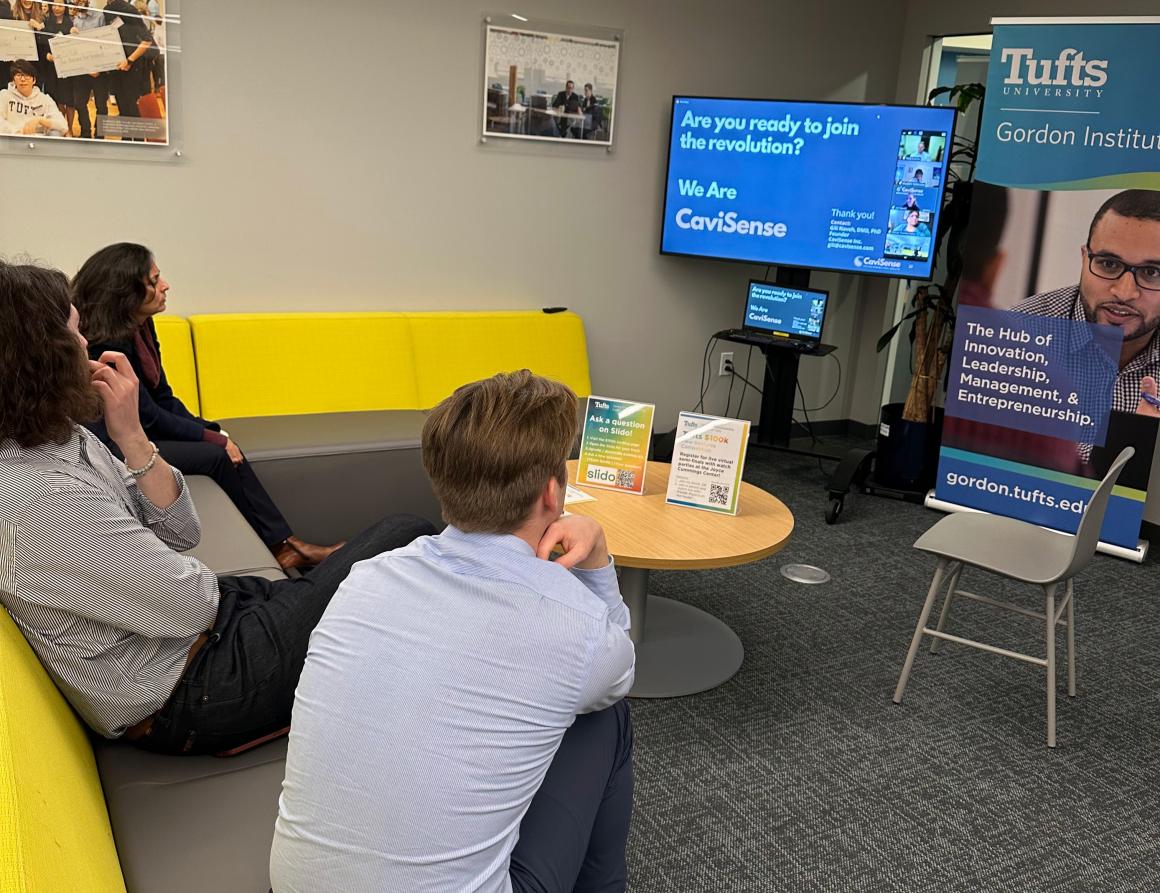 Healthcare & Life Science
Duo Toothpaste
"Duo is the original dentist-made whitening tablet toothpaste delightfully dosed with vitamins and supplements that are absorbed through your mouth as you brush."
Duo Toothpaste – founded by Robert Johnson, D18, Stevie Roberts, D18, Samantha Wishman, and Nick Scott – offers a sustainable alternative to traditional toothpaste. Duo's toothpaste tablets come in a recyclable glass jar, reducing the need for single-use plastic toothpaste tubes that clog up landfills. Duo Toothpaste offers a line of functional toothpaste with added vitamins, plant extracts, and even caffeine and melatonin variants.
SilkBone
"We help patients with broken bones heal faster, safer, and cheaper with our revolutionary biodegradable screws, which reduce the need for a secondary surgery and increase long-term orthopedic quality of life."
Over one-quarter of broken bones in the US require orthopedic fixation devices such as plates or screws. For these injuries, headless compression screws (HCS) are the standard of care, but can cause pain or infection or otherwise inhibit bone healing. SilkBone, founded by Ze'Ev Drukker, E23, and Liam Power, M27, is introducing a revolutionary, patented, non-toxically biodegradable HCS that is strong enough, has been proven successful in rodent trials, and has been vetted for feasibility and adoption by top surgeons at the best hospitals in the US. SilkBone's screws are made out of silk, eliminate the need for revision or removal surgery, and improve patients' long-term outcomes.
SmartH
"Our mission is to transform the wound care experience by making it fast, safe, and accessible with the help of smart hydrogels."
Current dressings for burn wounds adhere to the wound and necessitate debridement when removed, further damaging the wound, delaying healing, and increasing the risk of infection. Novel alternative hydrogels that enable fast and pain-free dressing changes while minimizing procedural tissue damage are urgently needed. Massachusetts General Hospital (MGH) and Tufts University have collaborated to prepare the first "supramolecular hybrid hydrogel (SHH)" burn dressing that is fast-forming, biocompatible, and dissoluble on-demand for easy and trauma-free removal.  Luca Mazzaferro, EG23, Zosia Stafford, EG23, and Aslihan Gokaltun of SmartH seek to create a company that transforms current wound care treatments where dressings are applied mostly for protection to dressings that are easy to use and remove, actively promote wound healing, and reduce scarring.
SNAPS
"The Future of Cavity Prevention"
Dental polishing has traditionally been considered a harmless routine procedure of dental cleanings; however, research has revealed negative effects: overzealous use of polishing causes the wearing of the tooth surface and may roughen natural teeth and restorations, leading to more accumulation of stains and bacteria. SNAPS is a novel nanotechnology-based dental paste that is compatible with existing popular polish applicators. Thomas Merten, EG24, and Mali Kaminaga, EG24, state that SNAPS' nanoscale abrasive gently removes surface stains without the negative effect of removing excessive tooth enamel or completely eroding the fluoride-rich protective layer of the tooth.
VF24
"A world where health and longevity from fruits and vegetables is the norm and not the exception."
Simin Meydani, Professor of Nutrition and Immunology and Director of the Nutritional Immunology Lab at Tufts University School of Medicine, Isabella Lombino, E22, and Colby Cho, E23 are creating a new kind of health smoothie. VF24 fruit and vegetable smoothies combine 12 fruits and 12 vegetables specifically formulated for their high nutrient values. VF24 seeks to set its smoothies apart from the competition with its commitment to a clinically-relevant and research-backed formula.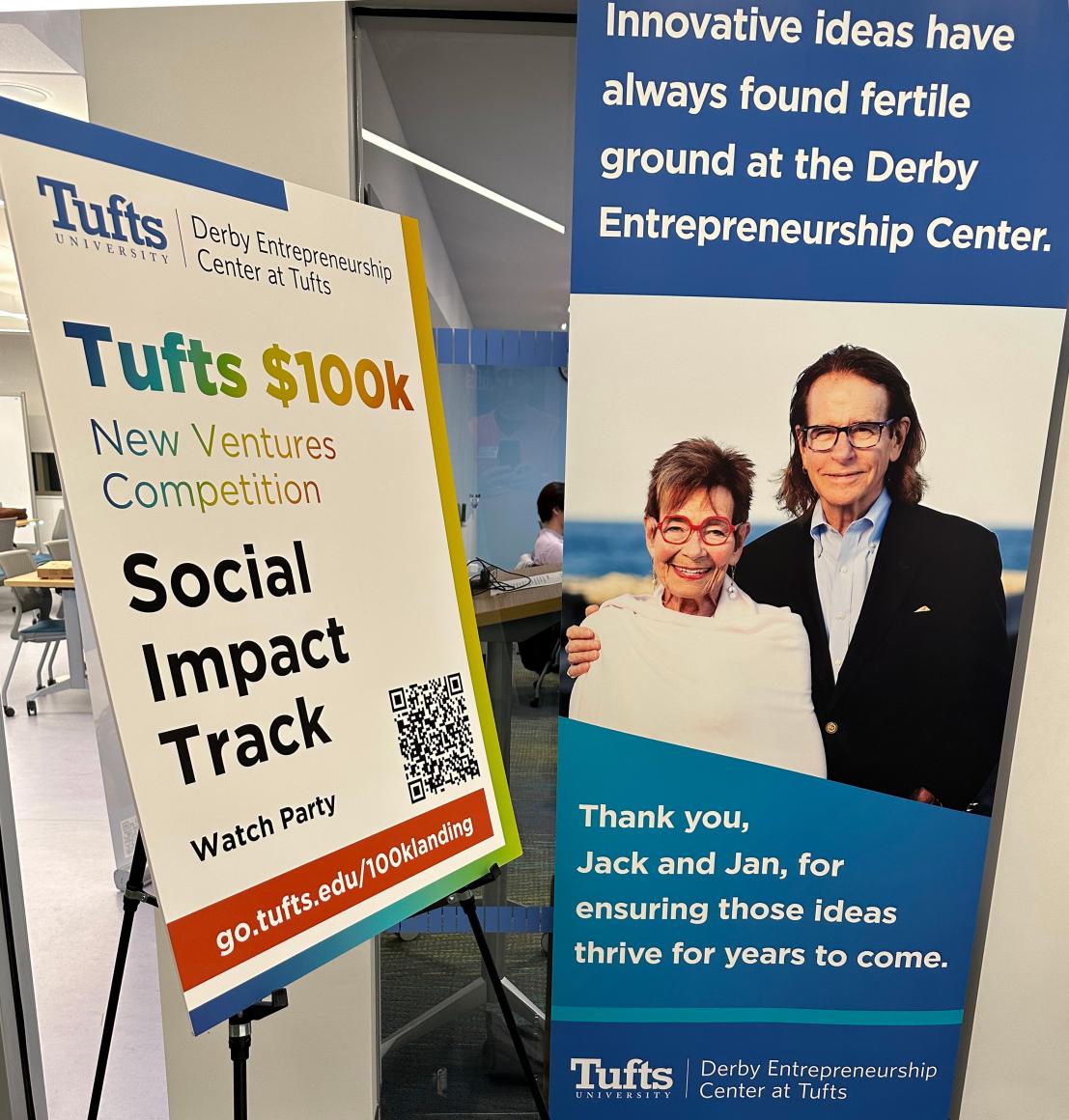 Social Impact
Blesser Breakers
"Putting a stop to adult-child predatory sexual relationships."
A member of the Tufts Venture Accelerator 2022 cohort, Blesser Breakers teaches "sugar daddy awareness" to middle school girls in Zambia to reduce unwanted teen pregnancies and HIV infections. In sub-Saharan Africa, unwanted pregnancy or HIV infection can quickly erase a young girl's chance out of poverty. Unwanted pregnancies often result in girls dropping out of school. This is the future for a shocking 10% of teenage girls in sub-Saharan Africa who will become pregnant while still in school. The Sugar Daddy Awareness program has been implemented with measured success across Africa (including in Kenya, Botswana, Togo, Ghana, South Africa, Uganda, Rwanda, and more). In Kenya, a clustered randomized control trial showed that Sugar Daddy Awareness programs reduced pregnancy by 28 percent.
Equiballot
"Providing concise and unbiased election information to help voters and political candidates."
EquiBallot is a free app that provides simple, concise voting information to all voters. EquiBallot aims to set itself apart by providing fact-checked, consistently updated, concise, and easy-to-follow information. The team will tackle multiple facets of the voting process, including candidate information and voting registration itself. "EquiBallot is an app that connects young voters to simple information about even the most local political candidates while also providing easy voter registration resources so voters can make informed election decisions in a short period of time without having to battle through the biased world of political advertising," said Gaby Ackermann-Logan, E23, of Equiballot.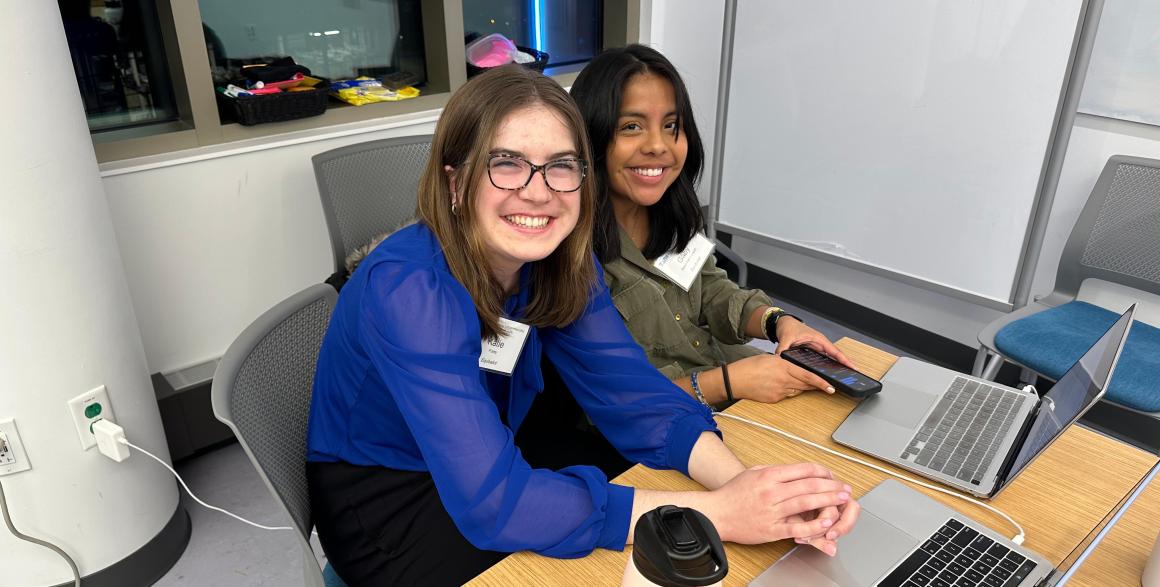 Museo Minca
"We connect conscientious travelers with immersive cultural experiences that engage with the community's complex history, while supporting their building of a better future."
Shenandoah Cornish, F22, and Manuel Camilo Balaguera Peñaranda pitched Museo Minca as a storytelling museum in which the community of Minca, Colombia can share their stories. As a post-conflict region, Minca did not have a space to discuss the conflict and its aftermath. Despite its new popularity as a tourist destination, Minca remains incredibly divided. Tourists, developers, and new populations arrive without understanding the complex history or identity of the community, leaving locals without a voice, power, or opportunities. At Museo Minca, community members share stories, photos, and other documents to help understand the plurality of truths experienced. For tourists, it provides an educational, cultural, socially responsible way to engage. For locals, it provides access to the tourist market; many locals spend time speaking directly to visitors, selling their products, attending workshops and English classes.
TalkMotion
"Connecting worlds."
Hearing loss is a significant global health concern that affects millions of people. Many of these individuals learn sign language to communicate, but not everyone knows sign language, which greatly impairs their ability to communicate with the rest of the world. Neelofar Tamboli, E25, and Faraz Tamboli aim to solve this problem through TalkMotion. TalkMotion is a cloud-based communication technology for deaf and aphonic people that turns sign language gestures into verbal and verbal language back into sign language gestures. The software for TalkMotion technology is built using a machine learning algorithm trained to map sign language to voice and voice to sign language. The TalkMotion technology is built in the cloud and accessible via a web portal with plans to expand to a smartphone app.
Yummy Greens
"Eat Well and Build Community. We help busy, health conscious professionals and students in major cities in Cameroon eat healthy via the production & delivery of tasty, affordable and accessible, nutritious meals on the go!"
Pitched as a combination of Sweetgreens and Uber Eats, Yummy Greens supports health-conscious Cameroonians by providing quick and easy access to healthy and delicious food options via a robust delivery service. The Yummy Greens team is transforming the idea of clean eating in Cameroon via sustainability, promoting healthy living and building even more resilient communities in Cameroon and across Western and Central Africa. Speaking to the goals of Yummy Greens, Ruti Ejangue, FG24, said, "We are playing our role in promoting cleaner eating choices, lowering the chances of preventable diseases and building a stronger, more health conscious nation and ultimately continent."