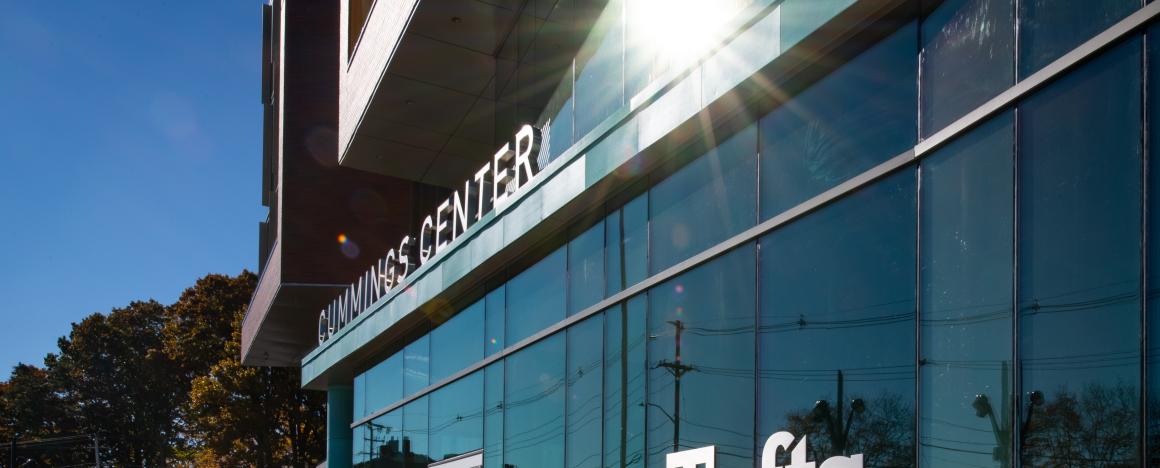 Meet Our Staff
Tufts Gordon Institute prides itself on its dedicated staff that provides a high level of service to all its students and faculty. Please contact any of our staff members below with questions – we welcome the opportunity to speak with you.
Teresa Aloi
Program Coordinator
E: teresa.aloi@tufts.edu
Teresa assists the operations team with program logistics and administration at Tufts Gordon Institute. She serves as the main point of contact for student questions and is dedicated to student success. Teresa's commitment to students stems from her background in student life at institutions such as Merrimack College where she graduated with a master's degree in Higher Education. A fun fact about Teresa is that she has been skiing since she was two years old.
Nancy Buczko
Director, Admissions & Professional Programs
P: 617.627.3117
E: nancy.buczko@tufts.edu
Nancy plays a lead role in ensuring effective operations and communications at Tufts Gordon Institute. Key areas of responsibility include: finance and administration, marketing and admissions, and alumni and corporate relations.  She also collaborates with faculty and staff to define and implement key strategic initiatives and organizational improvements.  Nancy began her career as a chemist and worked in industry in product development and technical support before coming to Tufts. She holds a bachelor's degree in chemistry from Wheaton College in Norton, MA.
Cody Damon
Entrepreneur-in-Residence, Derby Entrepreneurship Center at Tufts
E: Cody.Damon@tufts.edu
Cody Damon is a strategic communications advisor known best for his work creating high-impact communications for the social good sector. His career spans a variety of communication disciplines, working with organizations like (RED), NRDC, Center for American Progress, the Atlantic Council and dozens more, where he has architected and managed the implementation of large-scale digital marketing programs. Cody loves working with organizations creating positive change within the world – whether it's a local startup incubator or an international NGO – through smart, strategic communications poised for digital. A graduate of the University of Massachusetts, Cody also holds a Masters in Global Communications, Public Sphere Theory from the American University of Paris. Cody holds various board and advisory roles and is especially interested in high-impact organizations with a global reach or scope.
Carol Denning
Assistant Director, Derby Entrepreneurship Center at Tufts
E: Carol.Denning@tufts.edu
Carol plans and manages Derby Entrepreneurship Center events including business plan competitions, workshops, and a variety of entrepreneurial seminars and events. Carol oversees the Entrepreneurship Center's marketing including program literature, social media content, and department communications. Carol provides administration of the Entrepreneurship Minor. She joined Tufts following a career in corporate retail merchandising. She holds a B.S. in Business Administration with a concentration in Marketing from the University of Massachusetts.
Morgan Dent
Marketing & Communications Specialist
E: Morgan.Dent@tufts.edu
Morgan works with the marketing team to document student life and events at Tufts Gordon Institute, create marketing collateral, and sharing student stories on social media. She brings experience in photography, design, and marketing from art, university, and corporate industries; which she utilizes at Tufts Gordon Institute to create engaging and visually interesting content. Morgan holds a B.F.A in Photography & Design from Lesley University.
MaryAnn DiRamio
Administrative Assistant
P: 617.627.3110
E: mary.diramio@tufts.edu
MaryAnn provides support to Tufts Gordon Institute staff, faculty and students. Her administrative duties include coordinating meetings, special events, travel reimbursements, processing paperwork, vendor payments, and other finances. She assists students with scheduling project meetings as well as preparation for commencement.
Benjamin Friedman
Senior Marketing & Communications Specialist
E: Benjamin.Friedman650311@tufts.edu
Ben creates, designs, and implements creative content for Tufts Gordon Institute's marketing campaigns and communication channels to build awareness of the Institute's programs and engage prospective students, admitted students, and alumni. He brings to Tufts a professional history in copywriting and digital marketing across the tech and healthcare industries. Ben holds a B.A. in Film & Literature from the University of Connecticut and an M.A. in English Literature from Boston College.
Marcus Johnson-Smith
Entrepreneur-in-Residence, Derby Entrepreneurship Center at Tufts
E:Marcus.Johnson_Smith@tufts.edu
A 2022 Honoree of Boston Business Journal's 40 Under 40, Marcus Johnson-Smith is a passionate entrepreneur with over 10 years of retail business development, online marketing, fundraising and real estate procurement. Marcus is a results-driven executive with expertise in strategic partnership development, brand and relationship management, and building vibrant collaborations. Marcus enjoys proven success in cannabis retail, brand and product development.
Marcus holds a Bachelor of Science in African American Studies and Literature and a Master of Science in Corporate and Organizational Communication from Northeastern University.
Idicula Mathew
Entrepreneur-in-Residence
E: idicula.mathew@tufts.edu
Idicula helps educate, mentor, and coach Tufts students as well as creates innovative programming for the Derby Entrepreneurship Center. Outside of Tufts, Idicula is the co-founder and CEO of Hera Health Solutions, a pharmaceutical device company that specializes in the research, development, and commercialization of long-acting therapeutics through their proprietary bioerodible drug delivery implants. He joined Tufts Gordon Institute with over eight years of experience in scaling startups, entrepreneurship, accelerator coaching, venture capital, medical device/pharmaceutical and SAAS innovations and has led startups to raise millions of dollars in venture capital funding. Idicula holds a degree in biomedical engineering from the Georgia Institute of Technology.
Annika Murphy
Program Manager
P: 617.627.3112
E:Annika.Murphy@tufts.edu
Annika manages the Gordon Institute's marketing and communications multi-channel campaigns, including digital marketing, advertising, and the overall branded digital presence. She joined the Tufts team after working in the social media, digital and experiential marketing space with brand experience in higher education, entertainment, and consumer packaged goods. She holds a B.S. in Motion Pictures/Art from the University of Miami, and a graduate certificate in Children's Literature from Penn State University.
Brianne Odom
Senior Assistant Director, Admissions
P: 617.627.8298
E:Brianne.Odom@tufts.edu
Brianne serves as the main point of contact for all prospective students applying to Tufts Gordon Institute programs and works closely with the Director of Admissions & Professional Programs on areas such as: strategic recruitment, application review, as well as virtual and in person admission events. She joins the team after working for an edtech start-up and has five years' experience in admissions at Bay Path University and Savannah College of Art and Design. She holds a B.F.A in Fine Arts from Lesley University and an M.Ed. in Higher Education Administration from Northeastern University.
Jill Parlee
Associate Director, Programs & Operations
P: 617.627.6523
E:Jill.Parlee@tufts.edu
Jill shares responsibility for managing Tufts Gordon Institute's administration and operations as well as managing and developing programs. She has program management experience in higher education from previous positions at Tufts University and McGill University. Jill's commitment to social and environmental responsibility grew also from her work experience at for-profit and non-profit organizations practicing sustainability, her M.Sc. in Natural Resource Management from the University of the West Indies, and her B.Comm. in Social Context of Business from McGill University.
Will Trevor
Director, Programs & Operations
P: 617.627.4429
E: Will.Trevor@tufts.edu
Will serves as the senior administrative leader of Tufts Gordon Institute and has overall responsibility for administrative and operational functions, including finance, personnel administration, faculty services and support, student services, research administration, facilities and property management, and health and safety. He is the primary liaison with other offices within the School of Engineering and Tufts University and serves to represent Tufts Gordon Institute and its administrative concerns as appropriate. Will's background is in marketing and higher education, and he has been involved in developing and managing online learning programs for over ten years.