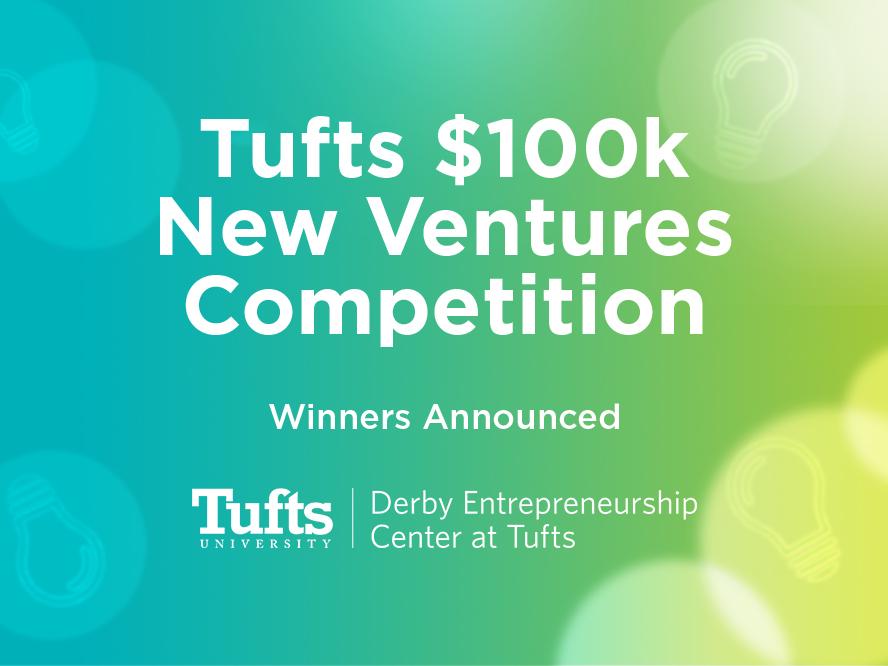 Annual $100k New Ventures Competition Drives Entrepreneurial Mindset, Winning Teams Announced
Following a day of live pitching and deliberation, winners for the $100k New Ventures Competition have been announced.
Another year brings innovative ideas across the Tufts University community to the $100k New Ventures Competition: cameras on, presentations on deck, and just minutes to rally experts in support of a team. On April 8, finalists in the business plan competition pitched their ventures virtually to a panel of judges who awarded prizes collectively valued at over $100,000.
In its 19th year, the $100k New Ventures Competition welcomed 14 teams to the finals across three tracks: general technology, healthcare and life science, and social impact. Elaine Chen, Director of the Derby Entrepreneurship Center at Tufts; Jack Derby, Professor of the Practice; Kyongbum Lee, Dean ad interim of Tufts University School of Engineering and Karol Family Professor; Tufts University President Anthony Monaco; and Kevin Oye, Tufts Gordon Institute's Executive Director welcomed the audience and kicked off the event.
"This annual competition is just one of the many ways Tufts supports entrepreneurship and innovation. The spirit of entrepreneurship and innovation is thriving across Tufts. It's evident in departments from the sciences to the arts and includes both commercial businesses and social impact organizations," said President Monaco.
The competition furthered its commitment to supporting women entrepreneurs this year, offering two women-led teams from each track a one-year membership to WE Global Studio, a full-stack venture studio and digital start-up platform for women entrepreneurs.
As in previous years, the competition also awarded the $15,000 Stephen and Geraldine Ricci Interdisciplinary Prize, which promotes the advancement of research at Tufts through projects. DEC once again teamed up with The Gerald J. and Dorothy R. Friedman School of Nutrition Science and Policy's Food & Nutrition Innovation Institute to administer the Friedman Nutrition Innovation Institute (FNII) Prize — a $10,000 cash prize coupled with $25,000 in-kind legal and ideation services. 
Learn more about the winning teams through excerpts of their self-submitted descriptions: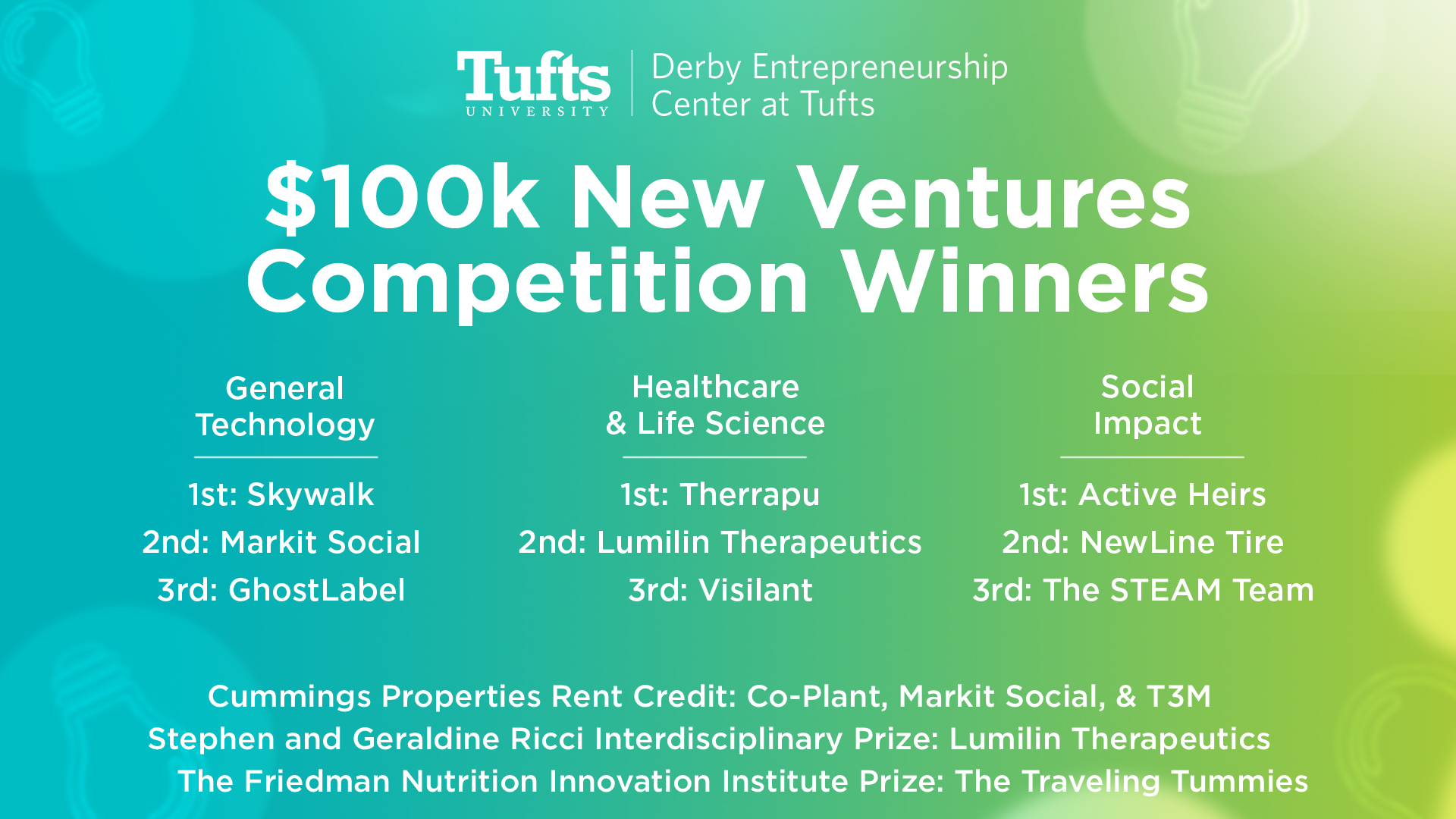 The Paul and Elizabeth Montle Prize
Winners: Devan Venkataraman (The Senior Award), Amber Asumda, (Most Progress in a New Venture), and Jay Yi (Best Demonstration of Grit)
Stephen and Geraldine Ricci Interdisciplinary Prize
Winner: Lumilin Therapeutics 
The Friedman Nutrition Innovation Institute Prize
Winner: The Traveling Tummies
General Technology
First Place: Skywalk
Team members: Tyler Chen, David Harrison, Cindy Huang, Bingyi Wang, and Jackie Yang
"Skywalk is building a sensorized wristband that makes anyone an augmented reality native by translating hand motions into digital actions."
Second Place & Recipient of Cummings Property Rent Credit: Markit Social 
Team members: Jonathan Chang and Brawner Quan
"Markit is the app to find what to do and who to do it with by swiping on events or planning your own. We want to change the way people plan and attend events. Based in the Boston area, Markit is being used to plan anything from lunch with your friends to Greek life parties."
Third Place: GhostLabel
Team members: Michael Casey and Maxwell Pollock
"For food and beverage businesses, finding a manufacturing partner is difficult, time-consuming, and relationship-driven. GhostLabel solves this by providing a B2B marketplace where food and beverage entrepreneurs can get their products made on-demand. Our platform opens the food and beverage space to new entrepreneurs, driving innovation to make food and beverage products that are more delicious, better for our health, and better for the planet."
Healthcare & Life Science Track
First Place & WE Global Studios Membership Recipient: Therrapu 
Team members: Jemimah Charles and Rachel Kiehne
"According to data released from the CDC (Center for Disease Control), by the year 2050, an estimated 1 in 5 people will be diagnosed with Type 2 Diabetes. In their lifetime, 15% of all diabetic patients will develop a diabetic foot ulcer, otherwise known as a DFU: a significant and costly burden to both patient and physician. The US spends over $13 billion annually on the care of this wound. This is the same amount as what the US spent to develop the covid vaccine. That is why we, Therrapu, have designed and developed a smart bandage using clinically proven efficacious, nano-thread technology to monitor open wounds and automate medication delivery..."
Second Place & WE Global Studios Membership Recipient: Lumilin Therapeutics 
Team members: Alexis Albanese, Sonam Parikh, Clara Vamvulescu, and Laura Wind
"As a Type 1 diabetic, do you often feel burdened by having to continuously dose yourself with insulin for food and daily activities, while also having to monitor your blood sugars to stay in a healthy range? Lumilin Therapeutics is here to help with a new implantable cell therapy that will last 6 to 12 months, providing patients with a way to more tightly control their blood sugars. Lumilin can minimize potential medical consequences through a less disruptive, and more reliable, insulin treatment. Our innovative cell therapy is an optogenetic therapy that is minimally invasive and utilizes blue light to naturally enhance and expedite the production of needed insulin for diabetics..."
Third Place & WE Global Studios Membership Recipient: Visilant
Team members: Kelsey Detels, Mary Hoopes, Jordan Shuff, Dema Shumeyko, and Rohan Verma
"Today, there are over 1.2B people with debilitating visual impairments around the world. Out of those cases, 80% could be avoided with proper health care intervention. Visilant is a digital health company spun out of Johns Hopkins Center for Bioengineering Innovation and Design (CBID) and Wilmer Eye Institute by a group of engineers, physicians, and entrepreneurs in order to help eliminate avoidable blindness globally and reach patients where current outreach efforts fail. Visilant is an end-to-end ophthalmologic care management system consisting of a low-bandwidth telemedicine platform and a simple, high-quality ocular imaging device that enables eye care systems to efficiently and effectively screen and treat high volumes of patients in remote areas..."
Cummings Properties Rent Credit & WE Global Studios Membership Recipient: T3M
Team members: Michelle Ma and Maia Taffe
"10% of U.S. women are at risk of needing surgery for urinary incontinence or pelvic organ prolapse (POP). However, surgery by nature is an invasive method to repairing these types of conditions, and for some patients, if given the choice, would opt-out of it. An alternative method to surgery is a pessary, which is a medical device used to support urinary incontinence as well as the organs in pelvic organ prolapse. However, the problem with current pessaries is that they can cause pain and discomfort for many patients, not to mention that they have not changed for nearly 30 years. Our goal is to design and develop a pessary that is not only easier and more comfortable to use, but that also aims to repair pelvic organ prolapse (POP) entirely..."
Social Impact Track
First Place & WE Global Studios Membership Recipient: Active Heirs
Team members: Kimberly Martin and Ashira Pelt
"Active Heirs empowers Black heirs' property owners in the U.S. by strengthening family cohesion and by providing families with resources and partnerships to build generational wealth. As consultants and empowerment experts assigned to each family, we help them identify hurdles, cost-effective strategies, educational resources, planning, and implementation strategies. Given the small landscape, limited number of attorneys, and advocacy organizations, our solution is to help push not only awareness but to activate heirs' properties owners to reclaim their land, generational wealth, and status in society. Through a 12-month, 26 session curriculum, our families will focus on understanding legal frameworks and rights, developing business acumen, navigating family dynamics and unpacking intergenerational trauma, and building a diaspora support system. Active Heirs is dedicated to increasing the overall knowledge and cross-cultural engagement by100% for all of our clients."
Second Place & WE Global Studios Membership Recipient: New Line Tire
Team members: Latifah Almayal, Eric Chen, Naomi Durand, Phillip Iatrou, and Adam Voogel
"Have you ever thought about where your tires go after you've used them? Did you know that tires are currently being burned to generate fuel, which produces emissions comparable to fossil fuels? 1.8 billion tires reach their end of life every year, creating a crisis in the growth of tire graveyards. The largest tire graveyard in the world is in Kuwait. This tire graveyard, Sulaibiya, holds more than 42 million tires and often spontaneously catches on fire. These fires release toxic emissions, endangering the residential community only 4 miles away. NewLine Tire aims to entirely eliminate tire waste by creating a cyclical market for tires. We utilize devulcanization technology to recycle rubber and repurpose the material to the production of new tires. Our long-term goal is to create passenger tires using recycled rubber, but our initial market entry will be through bicycle tires. NewLine Tire will produce two initial products: commercial bicycle tires and mountain bicycle tires..."
Third Place & WE Global Studios Membership Recipient: The STEAM Team
Team members: Sierra Carter, Brian Kaufmann, Beth Krikorian, and Hailey Yabroudy 
"We aspire to give every child, no matter their socioeconomic situation, the opportunity to develop the skills and mindsets to tackle and solve complex problems that require innovative solutions. Our [educational] kits [that we're designing] contain original storybooks, activities that guide families through the engineering design process, and an assortment of materials to kickstart creative solutions to problems presented in our books. Our mission is to create fun and meaningful opportunities for parents and their children to practice critical thinking, creative problem solving, curiosity, and communication skills, making everyone better equipped to solve tomorrow's problems. We bolster relationships between parents and children by embracing people's natural tendency to play while empowering our future problem-solvers. The STEAM Team strives to attain educational equality with every purchase through our "Have Fun, Send One" program…"
Cummings Properties Rent Credit: Co-Plant Seeds
Team members: Bayley Koopman, Nikhil Nandagopal, and Marco Sheng
"Millions of gardeners across the US are moving away from pesticides and towards all-natural and sustainable methods to care for their vegetable gardens, but pest control remains a large problem. Sustainability is on the rise, and many gardeners are looking for pest control options outside of environmentally harmful pesticides. Co-Plant Seeds provides a new pest control option: companion planting. This practice of growing multiple plants together can drastically reduce pest presence and improve garden health, but there are few resources available for the common home gardener. Co-Plant Seeds reintroduces this technique through seed packets which include high-quality seeds and a digestible education of the practice and how to use it..."
WE Global Studios Membership Recipient: Nourish
Team members: Khalid Alayoub, Jensen Corabi, George Katilus, Priyanshi Somani, Corinne Wilklow
"Fueled by a lack of consumer trust towards corporations, environmentally concerned individuals both lack the required transparency and knowledge to make responsible purchasing decisions. These decisions have the power to leverage companies to change unsustainable practices. Nourish is a browser extension that provides users with simple, comprehensive, and transparent information in real-time as they shop online. Nourish is more than just a simple plugin; it is a personal shopping assistant. Nourish produces a sustainability score based on a company's environmental and social governance rating. Our proprietary algorithm scrapes the internet and analyzes data from several databases, online reviews, peer-reviewed academic literature, government and non-governmental (NGO)reports, environmental product declarations, certifications, and company-reported information. Nourish uses consumer values and preferences, demographic information, engagement across different sites, and purchasing behavior to generate the quantifiable data about consumer purchasing behavior surrounding sustainability, helping businesses go beyond corporate responsibility to make sustainability a source of value both for them and the communities they engage with..."