Tufts Entrepreneurs Pitch Big Ideas for Big Problems
At this year's Ideas Competition, students across the Tufts ecosystem competed for cash prizes by tackling problems worth solving.
Ideas are the launchpad for every impactful venture, sparking the journey that leads entrepreneurs to make a difference in the world. On November 17, the Derby Entrepreneurship Center at Tufts (DEC) hosted the finals of its eighth annual Ideas Competition, offering up to $1,000 in prizes to the winning teams. The Ideas Competition asks teams to identify a problem worth solving, ideate an effective and viable solution, and deliver a 3-minute pitch of their idea to a panel of judges followed by a Q&A session.
"The Ideas Competition is a gateway for many students to learn about the world of entrepreneurship at Tufts," said Elaine Chen, Cummings Family Professor of the Practice in Entrepreneurship and Director of DEC. "We have so many students who are energized about making an impact, so it's essential we do our best to support them at this early stage in their entrepreneurial journey."
The Ideas Competition is open to all undergraduate and graduate students at Tufts, with no experience necessary. Students interested in participating are supported through ideation workshops and Ideas Clinic events, 1-to-1 coaching sessions, and access to the resources within DEC's Entrepreneurship Learning Center. Many winners of the Ideas Competition harness the experience they've gained and go on to compete in the $100k New Ventures Competition.
This year, teams competed for several different prizes, including the titles of "Most Promising Undergraduate Team," "Audience Favorite," and overall prizes for the top three teams determined by the judges. Teams were judged on factors such as the practicality of their solution and its implementation, the impact their solution could have on the world, and their general presentation and pitching skills.
The winning teams this year tackled a wide range of problems, from providing access to fact-checked and convenient voting information to offering affordable door-to-door haircuts. At the end of the night, Equiballot, Malikat Project, Yummy Greens, Tylt, and ShapeUp emerged as the award-winning teams.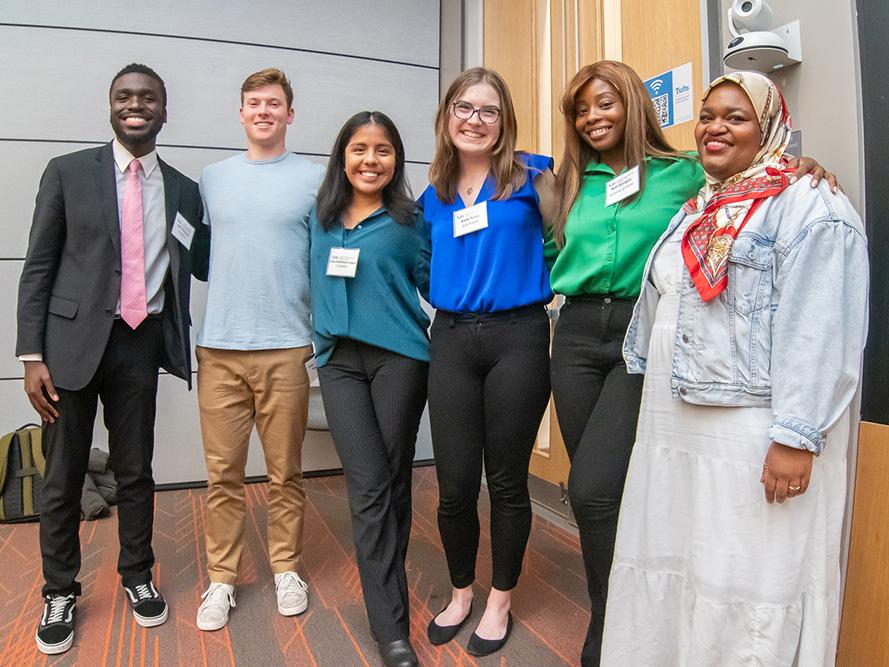 Learn more about the winning teams:
Equiballot (1st Place)
EquiBallot is a free app that provides simple, concise voting information to all voters. EquiBallot aims to set itself apart by providing fact-checked, consistently updated, concise, and easy-to-follow information.
The team will tackle multiple facets of the voting process, including candidate information and voting registration itself. "EquiBallot is an app that connects young voters to simple information about even the most local political candidates while also providing easy voter registration resources so voters can make informed election decisions in a short period of time without having to battle through the biased world of political advertising," said Gaby Ackermann-Logan, E23, of Equiballot.
Equiballot plans to start by targeting college-aged voters in the Boston area before expanding state- and nationwide.
Malikat Project (2nd Place)
Malikat Project seeks to empower young Muslim children to learn and appreciate the contributions that Muslim women have made to their religion, community, and society by starting a line of children's story books focusing on individual influential Muslim women throughout Islamic history. Malikat Project is founded by Ayia Elsadig, A19, and Faiza Wulandana, E23.
"Many Muslim children have had a similar Islamic education as Faiza and I," said Ayia. "Islamic history education heavily focuses on male contributions and largely ignores the influences women have had. According to the female Muslims we have interviewed, having a lack of education on influential Muslim women made it difficult for them to find applicable role models to be inspired by and to strive to be like"
The Malikat Project team plans to especially highlight less well-known influential Muslim women, bringing greater awareness to their contributions.
Yummy Greens (3rd Place)
Yummy Greens supports health-conscious and time-strapped Cameroonians by providing quick and easy access to healthy and delicious food options via a robust delivery service. The Yummy Greens team is transforming the idea of clean eating in Cameroon via sustainability, promoting healthy living and building even more resilient communities in Cameroon and across Western and Central Africa.
Speaking to the goals of Yummy Greens, Ruti Ejangue, FG24, said, "We are playing our role in promoting cleaner eating choices, lowering the chances of preventable diseases and building a stronger, more health conscious nation and ultimately continent."
Yummy Greens has now been active for two years, sourcing 80% of its raw food materials from female farmers who employ sustainable farming methods.
Tylt (Most Promising Undergraduate Team)
Tylt helps young adults enjoy nightlife by moving physical wait lines online. Nightlife customers reserve their place in the virtual line on their phone, receive a notification when it is their turn to enter, and then enter as soon as they arrive at the venue.
"By providing this incredible experience, we save customers time, and help bar and club owners measurably grow their customer base and revenue through marketing efforts based on key data and analytics," the Tylt team described the two-sided benefit of their solution.
The Tylt team brings their backgrounds in entrepreneurship, software engineering, and bar management together to tackle this problem.
ShapeUp (Audience Favorite Award)
ShapeUp uses a mobile application to generate a barber based on a user's personality, location, price range, and current haircut demands. A barber is then delivered to their door, providing new ease for customers and greater flexibility for barbers.
"Most barbers do not have the autonomy and independence to run and grow their brand, while college students who are extremely busy in their day to day lives do not have the time or income to meet the current barbershop demands in their area," explained Joel Omolade of ShapeUp. Joel plans to help solve these problems by launching the ShapeUp app by partnering with student brand ambassadors at Boston-area universities, reaching ShapeUp's target demographic directly.
Learn more about the Ideas Competition and the Derby Entrepreneurship Center here.