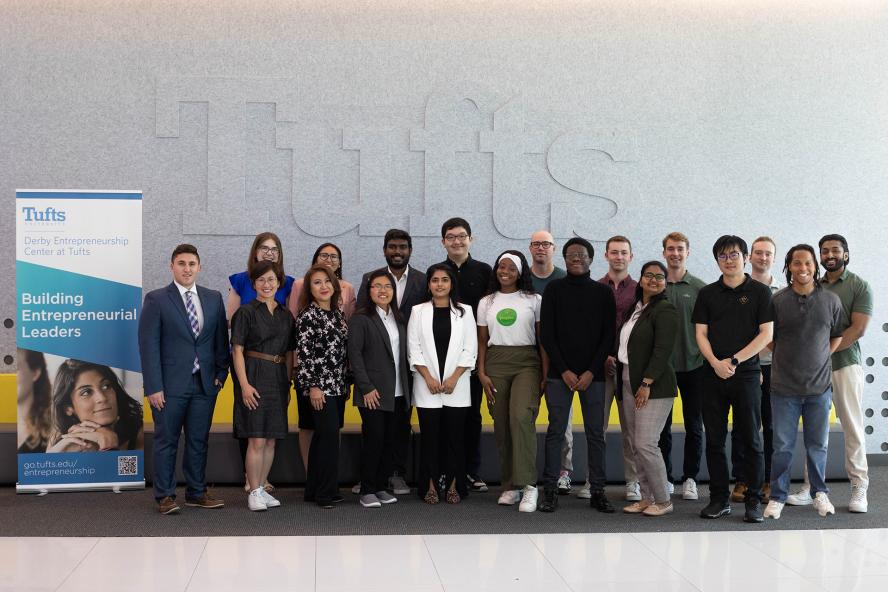 Tufts Entrepreneurs Pitch Big Ideas at Tufts Venture Accelerator Demo Day
At this year's Tufts Venture Accelerator Demo Day, Jumbopreneurs pitched impactful solutions to problems ranging from agricultural poverty to cavity prevention and beyond.
The Tufts Venture Accelerator is a ten-week-long program that provides structure, accountability, educational experiences, and more to help entrepreneurs accelerate their ventures. Teams received structured mentorship as well as equity-free grants of up to $10,000 per team.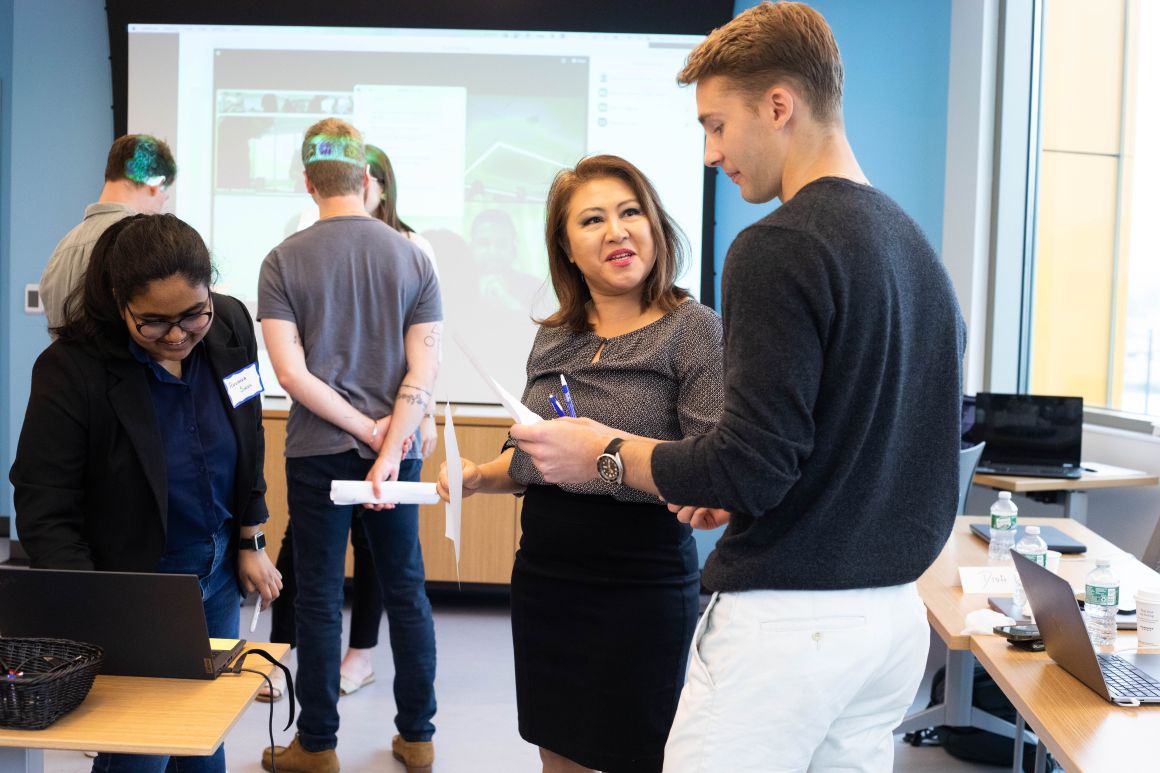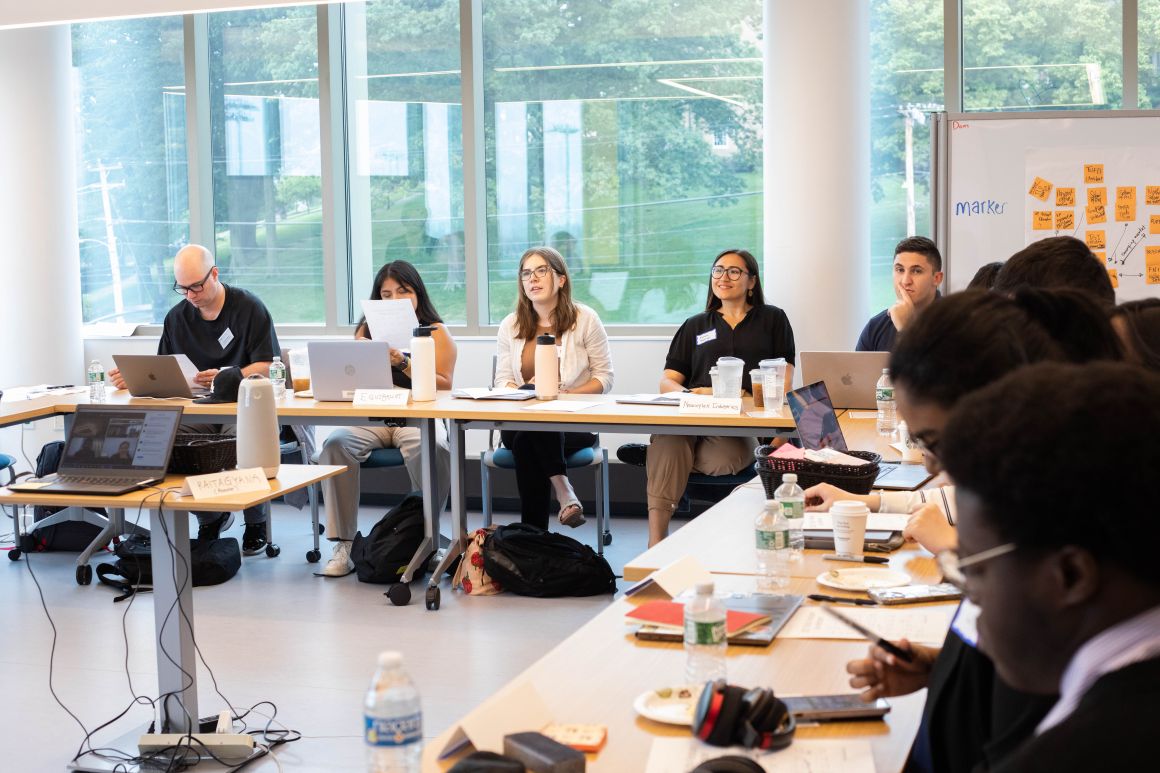 This year's cohort included diverse ventures from social enterprises in emerging markets to a nanotechnology-enabled oral health solution, a machine-learning powered platform to solve the problem of code documentation, a blockchain-enabled sports emulation game, and more. Many teams competed — and some won cash prizes — in the Tufts $100k New Ventures Competition and the Fletcher D-Prize.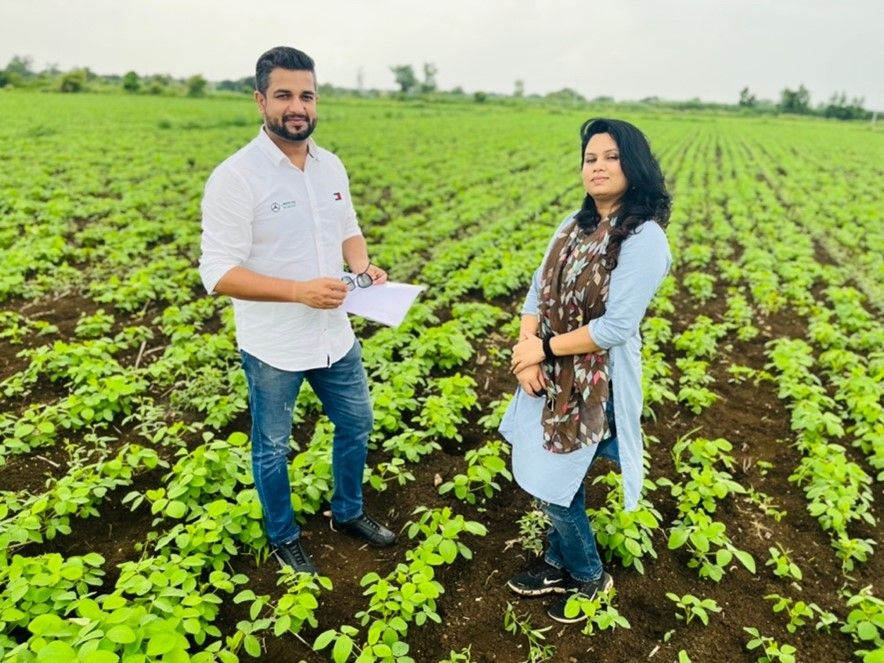 After an action-filled summer, our cohort of eight teams launched their ventures on stage in front of an audience of Tufts faculty, staff, their fellow entrepreneurs, and potential business connections at Demo Day on August 17. Every team has achieved great traction: some teams have acquired hundreds of end users, others have pilots well under way, and a few have already made early revenue.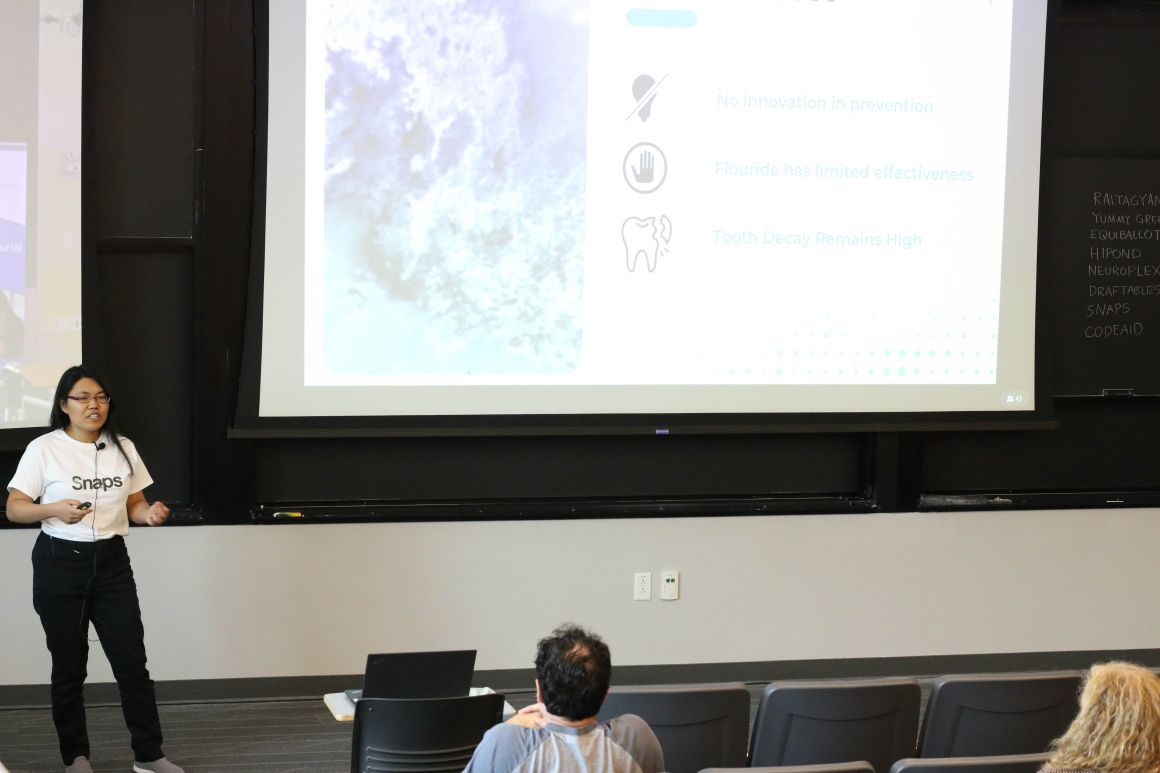 The accelerator is funded through a generous gift from Earle Yaffa, E61, Kim Hartman, J85 and her husband, Alan Hartman, and the Joseph H. Flom Foundation, as well as a pilot co-sponsorship from The Institute for the Global Context (IBGC) at The Fletcher School to support the 2023 Fletcher D-Prize winner, Raitagyana.
Meet the Tufts Venture Accelerator 2023 Cohort:
"Empowering Developers, Elevating Documentation!"

One of the biggest challenges facing software development is the time-consuming and error-prone process of generating technical documentation for projects. Manual documentation processes can be challenging to keep up-to-date with changes to the codebase, and this can lead to incomplete or inaccurate documentation. CodeAID's AI-powered platform integrates with Git to automatically generate technical documentation, reducing the need for manual documentation, improving accuracy and completeness, and allowing development teams to work more efficiently and effectively. CodeAID is co-founded by Akshay Chintamaneni, EG23, Shimona Dubey, EG23, Kendrick Koumba, EG24, and Anushka Singh, EG23.
"Experience the height of sports emulation."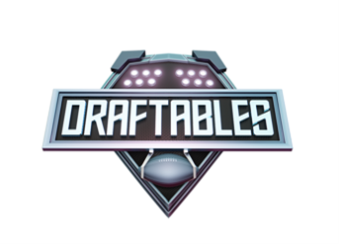 Draftables is the most rewarding football video game on the market. By creating constant engagement and true immersion for each and every user, Draftables utilizes blockchain technology to help users monetize the time, effort, and skill that users put into their own unique franchise. Draftables is co-founded by Brian Ross, A23, and Simon Peterson.
"Making elections equitable for voters and candidates."

Equiballot is tackling the issue of injustice within the voting process, on both the candidate side and the voter side. In a world where political candidates must spend significant amounts of money to build publicity for their campaigns and voters must wade through an ocean of politicized news and misinformation, Equiballot provides a platform for researching clear and concise voting information. Equiballot is co-founded by Katie Furey, A23, Gaby Ackermann Logan, E23, and Cameron Yuen, E23.
"Hipond, We make your life abroad easier!"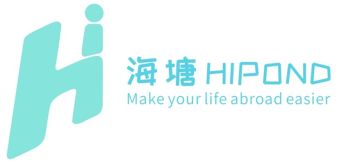 Hipond is a dedicated online community designed for international students in the United States. Hipond aims to improve the social connections and solve life challenges international students face during their time abroad, including housing, used item trading, social networking, and information exchange. With Hipond, international students in the US can enjoy a hassle-free experience, connecting with others. Hipond is co-founded by Xin Weng, EG23, Zhongyi Zhao, EG23, and Xiao Zhou, EG23.
"Increasing Presence Where It Matters Most"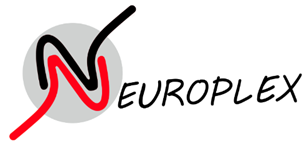 Neuroplex Industries is committed to increasing the safety of surgeries by providing resources for improving neuromonitoring services. In striving for efficient, quality, standardized, and customizable medical care, Neuroplex empowers clinicians to focus their presence where it matters most – caring  for each patient. At Neuroplex, patient safety and customer satisfaction come first. Neuroplex is co-founded by Robert Beer II and Helen Karimi, MG26.
"The Future of Cavity Prevention"

Despite increasing innovation in dentistry, there has not been a significant reduction in dental diseases. SNAPS leverages nano-sized abrasives and minerals to gently work with the biology of your tooth to make them less susceptible to stains and bacterial growth while naturally reinforcing enamel. SNAPS is co-founded by Mali Kaminaga, EG24, and Thomas Merten, EG24.
Raitagyana
"Transforming yields, transforming lives - The Ultimate Farmer's Oasis"

Raitagyana is a transformative initiative dedicated to uplifting small and marginal farmers in rural India from poverty through sustainable agricultural practices. Raitagyana's mission is to equip these farmers with the necessary knowledge and tools to maximize crop yields, optimize resource utilization, and enhance market access, ultimately improving their livelihoods. Raitagyana is co-founded by Sushant Swami. FG24, and Nikita Vardiparti, FG24.
Raitagyana is the 2023 Fletcher D-Prize winner, and participated in the Tufts Venture Accelerator 2023 cohort remotely while distributing their solution in India. Learn more about Raitagyana and the co-sponsorship between the Derby Entrepreneurship Center at Tufts (DEC) and The Institute for the Global Context (IBGC) at The Fletcher School that is making it possible for D-Prize winners to receive continued support for their solutions in our highlight article.
"Eat Well and Build Community"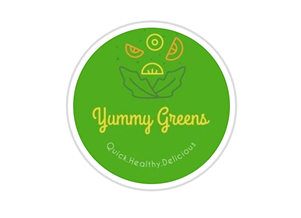 Yummy Greens is on a mission to empower the female economy in West and Central Africa and transform public health through nutrition. With their virtual healthy food restaurant, Yummy Greens provides fresh, delicious, and nutritious meals on the go. By focusing on the female farmers who supply their ingredients, the women they employ and train, and the busy professionals, students and families they serve, Yummy Greens builds community, resiliency, and sustainability through locally-sourced food. Yummy Greens focuses on promoting and tackling the following Sustainable Development Goals (SDGs): 3, 8, 5 and 10. Yummy Greens is co-founded by Tarana Bhargava, N24, and Ruti Ejangue, N22, FG24.